NEVSEREMOS'!
Не викручуйся: «Мене не переробиш… такий у мене характер...» Ні, це не характер, це – безхарактерність. Esto vir – «Будь мужем!» Хосе Марія Ескріва
Support note
:
In most cases support requests concern some not obvious or special situations. So to solve most of problems either Joomla superadmin access or akeebabackup of your web-site is needed. Please, be ready to provide it so it's possible to debug your problem at a localhost.
Compatibility
:
Problem description
Hm.. A little hard to explain. Imagine, you are surfing a joomla web-site. You open a page with some content and feel a passionate desire to create an account. You start the process by clicking a login link, fill in forms and so on. Finally you perform the first login - and see your profile page instead of the article you have been viewing before you start the sign up process.
This plugin redirect you to the last page, you has been viewing before starting to sign up.
There is also a possibility to perform after login when activatin a user - when clicked by the email activation link.
Settings
The settings are self explaining.
The extension is delivered together with all available languages at the release time. Translations, added or updated later, can be found here as installable packages. Language updates are available over normal Joomla extensions update feature.
Please, help with translation to your language! Just register here https://webtranslateit.com/en/projects/4789-RegisterGoBack/project_locales and translate. The installable language packages are generated every hour.
The latest released version contains such language translations:
Currenty available languages (translations may be updated since last extension release)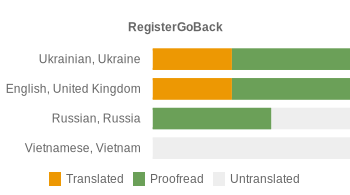 ---